A Mystery Bicycle, and a Fan's Obsession
Inside, Looking Out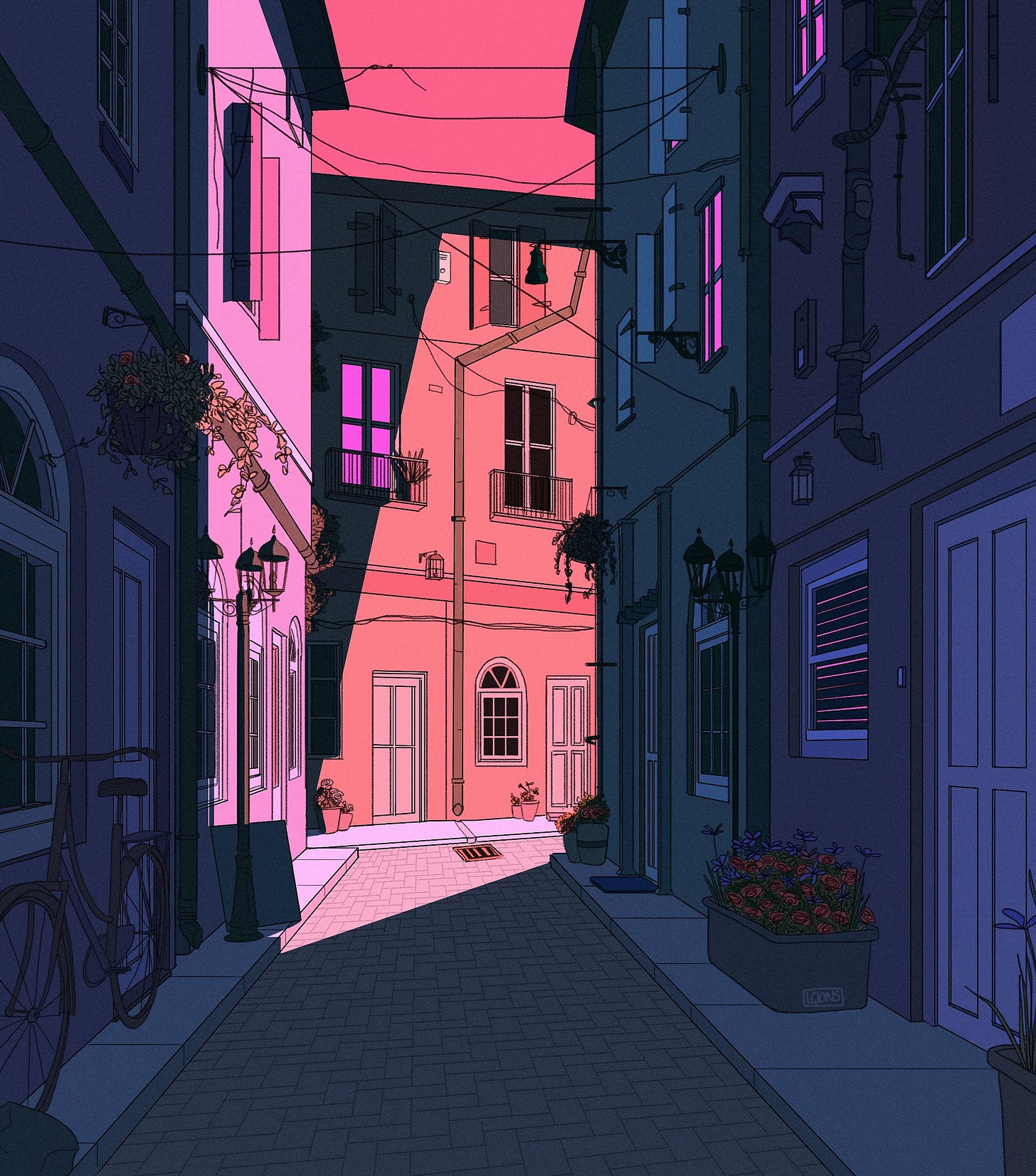 Illustration by Bex Glendining.
The fires felt like just another bad joke.

We couldn't be with friends inside, so we went outside.

Now we can't go outside, so we must stay inside.

Outside, friends in California were evacuated. There's no inside left.

Outside, Black lives are in danger. Inside they are too.

Inside and outside, our jobs (those who still have them) are demanding our attention. Our families need our attention too.

Inside, we're figuring out remote school and how to log in to Schoology, and Microsoft Teams, and Clever, and Seesaw.

Inside, we're having more family dinners. We have nothing scheduled, inside or outside. When we're inside we try to get outside ourselves. Reading books, reading the newspaper, reading to each other.

When the smoke clears, we'll go back outside, for neighborhood walks and paddleboarding and bike rides.

When the virus clears, we'll get together again, inside. Until then, stay safe.
***
5 Stories
Çevik is an activist, writer, and mother of two children — one of whom, Mustafa, is autistic and nonspeaking. Despite instituting some training programs, police are still ill-equipped to safely address situations involving community members with autism or other disabilities:
My son is very much like a 13-year-old version of Mr. Tario Anderson, of Greenville, SC., the nonspeaking autistic man who was tasered, handcuffed, and arrested over the tears of his mother and protestations of the entire neighborhood on Christmas Day. Mr. Anderson, to be clear, had not committed any crime, nor did he resemble anyone who was being sought by police. Like Mr. Anderson, my son is autistic, non-speaking and nonwhite. Mustafa needs to be able to either move his hands to sign or reach for his iPad and be allowed to turn it on and access his language program to speak. So if he, like Mr. Anderson, were walking alone to visit family on a holiday and police assumed that because he was not white and because he could not give a verbal response to their commands he would suffer Tario's fate at best.
The story of the woman who outsang Ray Charles. "The voice of Margie Hendrix on 'Night Time is The Right Time' comes at you out of nowhere, like an explosive, thunderous crack in the sky after a period of steady rain." A terrific essay by Tarisai Ngangura, from Danielle A. Jackson's series Hive.

There's an insightful essay by James Fallows about how the media still struggles in covering the magnitude of lying and corruption from the Trump Administration. But Michael Hobbes connects all the dots in this piece, showing how incomplete or inaccurate reporting from mainstream news gets weaponized by QAnon conspiracy theorists and right-wing social media.

A woman becomes obsessed with the work and lives of two artists. I loved this short film, with an unexpected plot twist, posted at The New Yorker. The film was written by Uzoamaka Maduka (who founded the literary magazine The American Reader a few years back) and Alexandra Butler, and directed by Andrea Longacre-White.

Author-journalist Ben Montgomery attempts to fact-check the larger-than-life stories of Chef Tom Pritchard following his death — including how he came to own a certain bicycle.
***
About the Artist
Bex Glendining (she/they) is a biracial queer, UK based illustrator, comic artist and colourist. Bex has worked as a cover artist, colourist and interior artist on projects such as Seen: Edmonia Lewis, Penultimate Quest, and multiple covers for Penguin Random House.